Imprimer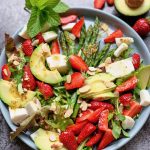 Green asparagus salad, mozzarella and strawberries, citrus vinaigrette
For 4 people Preparation: 25 min. Cooking time: 3 min
In a bowl, combine lemon juice, orange juice, honey and mustard. Season with salt and pepper and add the oil while whisking.

Cut the base of the asparagus, peel the third of the bottom and then immerse the asparagus for 3 minutes in a pot of boiling salted water.

Refresh the asparagus under cold water, then drain.

Cut the avocado in half and then pit it.

Gently pick up the flesh and cut into thin slices.

Cut the mozzarella into pieces.

Strain the strawberries and cut them into pieces.

Divide the mesclun into 4 plates and arrange the mozzarella, strawberries, asparagus and avocado harmoniously.

Sprinkle with citrus vinaigrette, then sprinkle with mint and flaked almonds before serving.