Imprimer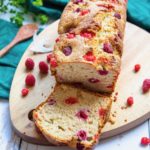 Banana bread with raspberries, pink pralines (and sourdough)
For 1 banana bread Preparation time: 10 min, Cooking time: 55 min
125

g

unsalted butter at room temperature

60

g

brown sugar + 1 tbsp for the top of the banana bread

150

g

raspberries

1

handful of pink pralines

2

eggs

3

over-ripe bananas

1

teaspoon baking powder

100

g

of inactivated sourdough

optional

Pinch

of salt

2

tbsp sour cream

optional
Preheat oven to 180°C and grease 1L loaf pan with oil.

Smashed the bananas with a fork.

Using hand beaters (or a wooden spoon) beat butter and sugar in a bowl until thick and pale.

Add eggs and bananas and mix until combined.

Add flour, baking powder, sourdough (optional)and salt, and mix until just combined.

Add the sour cream (optional) and mix.

Pour mixture into 1L loaf pan to 1/4 and add some raspberries and pink pralines. Pour again the mixture to 2/4 and add some raspberries and pink pralines. Repeat until the mixture is finished.

Add some raspberries and pink pralines on the top of the bread and sprinkle with sugar.

Bake for 55 minutes or until a skewer inserted comes out clean.

Set banana bread aside in pan for 10 minutes before turning out onto a cooling rack to cool completely. Alternatively, when slightly warm, cover in plastic wrap for a better result the following day, and a slightly sticky surface.