Imprimer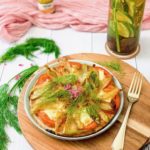 Tomato, goat cheese and caramelized fennel pizzette
For a pizzette Preparation time: 20 min, cooking time: 30 min
Mix all the ingredients for the dough with a robot or by hand.

Spread on a baking sheet and cut the dough using a 20cm diameter circle.

Precooked 10 min in an oven at 180 degrees C

Meanwhile in a pan, heat the oil and cook the fennel pieces in the oil. Cover with water and allow the water to evaporate.

Then add the sugar to caramelize the fennel for a few moments. Add salt and pepper.

Remove the dough from the oven and cover with mustard.

Place the tomato slices, then the goat brie slices and finally the fennel pieces.

Bake for 20 min at 200 degrees C.