Imprimer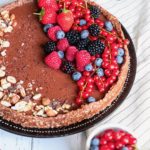 Raw vegan chocolate pie
For a pie of 8-10 parts Preparation time: 30 min, refrigeration time: 4h
In a blender, pour the dates, nut mixture, coconut oil, salt and raw cocoa powder and blend until you get a slightly sticky texture with chopped walnut pieces.

Place this dough on a baking sheet covered with baking paper and in a 24cm pastry ring.

Flatten the dough with your fingers and hands to cover the bottom and sides of the circle.

Keep refrigerated for 20 min.

Cover the pie shell with a generous layer of spread or peanut butter.

Put back in the fridge.

Heat the coconut cream with the margarine and let it melt.

Off the heat, pour the chocolate in 3 batches and mix until you get a very smooth texture.

Pour over the tart and let stand in the fridge for at least 3 hours.

Take out of the fridge 15min before serving for a soft texture.

Garnish with fresh fruit, nut chips and chocolate.