Imprimer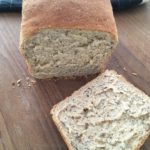 Whole bread with seeds
For 1 bread (20 slices) Preparation time : 30 min, time to rest: 2h30, cooking time: 25 to 30 min
Pour half of the milk in a saucepan and heat until lukewarm. Add the yeast and cover with a linen for 15 minutes.

In the bowl of a food processor add in this order : the salt, the remaining milk, the honey, the oil, the seeds and the 2 flours.

Pour in the mixture, the milk with the yeast and knead at speed one for 5 minutes.

Form a ball and cover with a linen. Let rise for 2 hours in a well tempered place.

The dough should double in volume. Knead the dough and form a thick rectangle and fold one side and stick together, then the other side. Stick together.

Place a baking sheet in cake pan and place the bread. Cover with a linen for 30 minutes.

Preheat the oven to 220°C and bake the bread at 190°C for 25 to 30 minutes.