Imprimer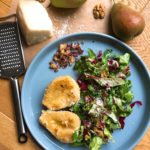 Pears in a parmesan crust with a mixed salad
For 2 plates Preparation time: 30 min, Cooking time: 10 minutes
Mince finely the onion.

Crush the walnut kernels.

Heat a spray of oil in a pan, then fry onion and walnuts for 2 to 3 minutes over high heat.

Whisk the vinegar and honey in a bowl add salt and pepper. Stir in 2 tablespoons olive oil and 2 tablespoons water, whisking, then add onion and walnuts.

Cover with cling film and reserve in the fridge.

Finely chop the Parmesan then mix with breadcrumbs in a plate.

Add flour in another plate.

Whisk the eggs in a bowl.

Peel the pears and cut them in two.

Seed them with the tip of a knife and brush them with lemon juice.

Roll them in the flour, dip them in the beaten eggs, then coat them with bread crumbs and Parmesan cheese.

Heat a pan with a spray of olive oil, then brown the pears on each side.

Cover the salad with vinaigrette and serve in 2 plates and add the breaded pear slices.