Imprimer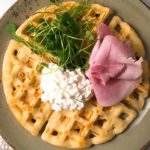 Waffle with cheese, ham and cottage cheese
For 4 large waffles Preparation time : 20 min, cooking time : 10 min
In a bowl, whisk the eggs in a salad bowl with the salt until the mixture whitens.

Add melted butter and continue to whisk.

Add flour and yeast, mix, then dilute with milk while whisking.

Add the Emmenthal and whisk again.

Cover the salad bowl with a cloth and let stand for 30 minutes.

Meanwhile, season the salad with a dash of olive oil, salt and pepper and keep cool.

Place a small ladle of dough in a preheated waffle iron.

Close the waffle iron and cook for 2 to 3 minutes, depending on the desired color.

Let the waffles rest on a rack for a few moments

Serve waffles on plates.

Top with a spoonful of cottage cheese, a slice of white ham, and a little of mesclun.