Imprimer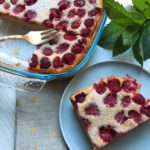 Raspberries clafoutis
For 8 people Preparation time: 20 min, cooking time: 45 min
Preheat oven to 180 ° C.

Beat the eggs with brown sugar, vanilla sugar and vanilla powder until the mixture is foamed and lightened.

Add sifted flour and salt.

Stir in the cream and the milk.

Whisk in order to obtain a smooth paste and homogenize.

Place the raspberries in a previously buttered mold and pour the mixture

Bake 40-45 minutes, until the blade of a knife will come out clean and dry.