Imprimer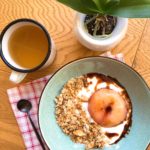 Poached peach granola with coconut sugar
For 2 bowls Preparation time: 15 min, cooking time: 5 min
2

flat peaches not too ripe

250

ml

of water

1

tsp of grenadine syrup

to color

4

tbsp of coconut sugar Iswari

1

tsp of vanilla extract

1

yogurt

2 to 3

tbsp of homemade granola
In a saucepan, mix sugar, water, grenadine syrup and vanilla extract. Bring to a boil and place the peaches in this syrup.

Cook the peaches in the syrup while boiling for 5 minutes on each side, then remove the peaches from the syrup and remove the skin.

Reduce the syrup a few minutes bringing it to a boil.

In a deep plate, pour the yoghurt and one peach.

Add the syrup on the yogurt as a coulis.

Finally add the homemade granola.

Enjoy your breakfast!