Imprimer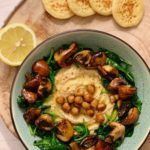 Creamy Hummus with Spinach and Glazed Mushrooms
For 2 people Preparation time: 10 min, cooking time: 5 min
250

g

chickpeas

1/2

lemon juice

3

tbsp of light cream (vegetal cream for a vegan recipe)

1

tsp of tahin

Salt

Pepper

3

tbsp of olive oil

6

Mushrooms of Paris

2

handfuls of spinach

1

tsp of cream of balsamic vinegar
n a blender, pour the drained chickpeas, the lemon juice, the cream, the tahini and 1 tbsp of olive oil. Add salt and pepper.

Mix together until obtaining a homogeneous and creamy paste.

In a skillet, sauté the mushrooms. When they start to lose their water, add 1 tbsp of olive oil and cook for 5 minutes while mixing.

At the end of cooking, add the vinegar cream and glaze the mushrooms for 1 minute while mixing.

Reserve the mushrooms on a plate.

In the same pan add spinach and cook for a few seconds until reduced by half.

In a deep plate, pour the hummus, add salt and pepper and pour the last tbsp of olive oil.

Place the glazed mushrooms and spinach.

Serve with blini or pita bread.