Imprimer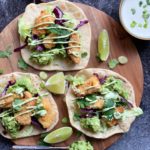 Homemade chicken TACOS with avocado cream
For 8 tacos Preparation time: 20 minutes, time to rise: 15 minutes, cooking time: 10 minutes For homemade tortillas
200

g

of flour

+ a little for the work surface

1

pinch

of baking powder

0.5

tsp of salt

10

cl

of lukewarm water

4

tbsp of olive oil

6

breaded chicken breast strips

Red cabbage cut into slices

Lettuce cut into slices

2

avocados

1

lime

Coriander

250

g

sour cream

Salt and pepper
Mix the flour, yeast and salt. Stir in the oil and then the water.

Mix until you get a soft dough. Knead a few minutes on the work surface.

Form a ball, cover, leave to rest for 15 minutes.

Divide the dough into 8 equal parts.

Roll them up and spread them finely (2 mm) with the roller, on the lightly floured worktop.

Cook the tortillas in a hot, fat-free pan, turning them over as soon as they begin to blister and stain (usually 1 min max on one side, then 30 s on the other side).

Serve immediately or keep the tortillas in a damp cloth

Prepare the avocado cream by mixing the flesh of a half avocado with 2 tbsp of sour cream and set aside.

Crush the other half avocado with the second avocado, add salt and pepper and add the juice of half a lime.

Prepare the tacos by placing on each of them slices of red cabbage and lettuce then smashed avocado and finally breaded chicken pieces.

Pour on each tacos the avocado cream, add the coriander and serve with the remaining sour cream and lime.