Imprimer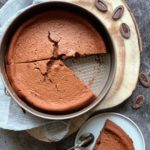 Moist and Light chocolate cake
Without butter, reduced in sugar and possible without gluten For a cake Preparation time: 10 min, Cooking time: 25 min
200

g

of good dark chocolate with 70% cocoa

240

g

of very thick cream

4

eggs

40

g

of almond powder

40

g

of sugar

20

g

flour

gluten-free for intolerant
Melt the chocolate in a bain-marie.

Stir in the cream with chocolate.

Add the sugar, the egg yolks, then the almond powder and the flour.

Finish with whites beaten in very firm snow.

Pour the batter into a pan and bake at 180 ° C for 25 minutes, no more.

The chocolate cake is then barely cooked.

Let it cool in the mold.

Unmold gently.