Imprimer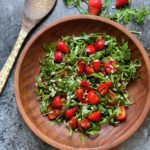 Arugula salad with strawberries and sunflower seeds
For 2 people Preparation time: 10 min
Prepare the vinaigrette by mixing together olive oil, vinegar, water, sugar, salt and pepper.

Cut the strawberries into 4.

In a salad bowl mix the arugula with half of the strawberries and the vinaigrette.

In a serving dish place the strawberry arugula salad and add the remaining strawberries.

Sprinkle with sunflower seeds.