Imprimer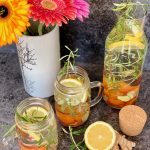 Infused water with apricots, rosemary, lemon and ginger
For 1L of infused water Preparation time: 5 min
Cut the lemon into slices.

Cut the apricots in 2 and remove the pits.

Cut the ginger with the skin in slices.

In a carafe add the washed rosemary branche.

Add lemon slices, apricots and the ginger.

Let infuse at least 1 hour.

Refill the carafe with water when it is empty once or twice to continue the pleasure.