Imprimer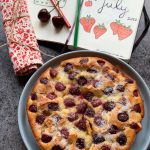 Cherries cake
For a 24cm diameter mold Preparation time: 20 min, cooking time: 40 to 50 min
In a large salad bowl, whisk the eggs with the ricotta.

Stir in flour and yeast, sugar and almond powder.

Stir well so that the preparation is homogeneous

Add the melted butter, mix. Gently stir the cherries, reserving some for the top of the cake.

Pour the mixture into a buttered and floured mold.

Spread the remaining cherries on top.

Bake for 40 to 50 minutes at 150 degrees C.

Check the cooking by pricking the tip of a knife in the center of the cake, it must come out dry.