Imprimer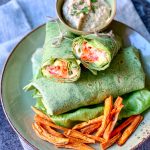 Veggie wrap
For 2 people Preparation time: 20 min
* 250g of chickpeas

* 1/2 lemon juice

* 3 tbsp of cream

* 1 tsp of tahini

* 1 tbsp of oil

* Salt

* Pepper

* 2 grated carrots

* 1 Sliced ​​Avocado

* Some iceberg lettuce leaves

* Some slices of sweet onions

* A dozen cherry tomatoes cut in 2

* 2 Wheat spinach tortillas
* Prepare the hummus: In a blender, pour the drained chickpeas, the lemon juice, the cream, the tahini and 1 tbsp of olive oil. Add salt and pepper. Mix together until you obtain a homogeneous and creamy pie.

* Spread creamy hummus on top of tortillas.

* Add salad, grated carrots, cherry tomatoes, sweet onion and avocado slices.

* Roll the wraps and cut them in half.

* Hold with a woodpecker.