Imprimer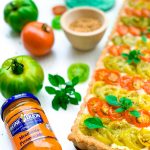 Mozzarella tart, tomatoes and basil
Preparation time: 30 min, Cooking time: 30 min
150

g

of spelt flour

100

g

of plain flour

80

g

of olive oil

120

g

of hot water

1

pinch

of salt

1

pinch

of baking powder

1

Mozzarella Di Buffala

250

g

cherry tomatoes of different colors

3 to 4

tbsp of provencal mustard Reine de Dijon

Some basil leaves
In the bowl of a robot mix the flours with the oil, yeast, water and salt.

Form a ball.

Roll out the dough and place it in a rectangular pie dish.

Pre-cook the dough for 10 minutes in a preheated oven at 200 degrees C.

Take the dough out of the oven.

Spread of the provencal mustard Reine de Dijon.

Slice the mozzarella Di Buffala and place on the mustard-covered pie base

Add salt and pepper.

Slice the cherry tomatoes and put them in line. If you have different colors of tomatoes you can alternate the rows.

Season with salt and pepper and use a spray of olive oil to spray the tomatoes.

Bake at 200 degrees C for 20 minutes.

Take the tart out of the oven and sprinkle with basil leaves.