Imprimer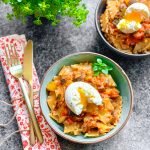 Mafaldine with ratatouille sauce and soft egg
For 2 people Preparation time: 10 min, cooking time: 30 min
200

g

of mafaldine

1

onion

1

small eggplant

1

zucchini

1

can of tomato pulp

1

tbsp of sugar

1

tsp of baking soda

2

eggs

Olive oil

Salt and pepper

Parmesan cheese
Peel the onion and chop it into small pieces.

Cut the eggplant and zucchini into small cubes.

In a frying pan saute the onion in 1 case of olive oil.

When the onion is golden brown add diced zucchini and eggplant with 1 case of olive oil.

Brown the whole by mixing regularly.

Add the tomato pulp.

Add sugar and baking soda (to break the acidity), salt and pepper.

Add 100ml of water and simmer over low heat.

Start cooking the pasta in boiling salted water and cook al dente according to package recommendations.

In another saucepan, cook the soft eggs by immersing them in boiling water for 6 minutes.

Drain the pasta and return to the saucepan.

Pour half of the ratatouille sauce over the pasta and mix.

Peel the eggs gently.

In 2 soup plates, put the pasta in the ratatouille sauce.

Add remaining sauce to each plate and sprinkle with grated parmesan cheese and place the boiled egg.

Enjoy without further delay.