Imprimer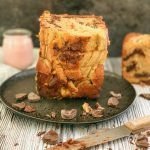 Banana bread
For 1 banana bread Preparation time: 10 min, Cooking time: 55 min
* 125g unsalted butter

at room temperature

*  100g brown sugar + 1 tbsp for the top of the banana bread

* 100g chocolate chips

* 2 eggs

* 3 over-ripe bananas + 1 for the top of the banana bread

* 1¾ cups

260g plain flour

* 1 teaspoon bicarbonate of soda

* Pinch of salt

* 1 tsp of amber rhum

* 1 tsp of vanilla aroma

* 2 tbsp sour cream
* Preheat oven to 180°C and grease 1L loaf pan with oil.

* Smashed the banana with vanilla and rhum

* Using hand beaters, beat butter and sugar in a bowl until thick and pale.

* Add eggs and bananas and mix until combined.

* Add flour, bicarbonate of soda and salt, and mix until just combined. Add the sour cream and mix.

* Add the chocolate chips and mix quickly.

* Pour mixture into 1L loaf pan.

* Add 1 banana cut in half on the top of the bread and sprinkle with sugar.

* Bake for 55 minutes or until a skewer inserted comes out clean.

* Set banana bread aside in pan for 10 minutes before turning out onto a cooling rack to cool completely. Alternatively, when slightly warm, cover in plastic wrap for a better result the following day, and a slightly sticky surface.