Imprimer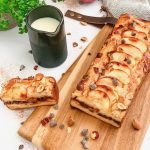 Cake with apples, chocolate chips and hazelnuts
For one cake Preparation time: 30 min, cooking time: 50 min
3

large apples

4

tbsp chocolate chips

1

handful of hazelnuts or a mix of nuts

2

eggs

120

g

flour

1

pack baking powder

70

g

brown sugar + 20g for cooking

50

g

melted soft butter

2-3

seeds of cardamom

80

ml

fermented milk

or whole milk

+ decoration: apples

chocolate chips, hazelnuts or mix of nuts
Peel the apples, cut into quarters and seed them.

Pass the apples to the mandolin to obtain slices of about 1 to 2 mm.

Preheat the convection oven to 180 °.

In a bowl, whisk eggs and brown sugar.

Then add the sifted flour with the yeast, mix well.

Add the sliced apples to the cake batter (keeping a few slices for the top of the cake). Coat them well.

Butter the mold and sprinkle with brown sugar the bottom and the edge of the mold. This is what will allow to give a golden appearance to the cake.

Pour half of the dough into the mold, then arrange the chocolate chips and the nuts all over the surface. Pour the remaining dough on the chocolate and the hazelnuts.

Lightly crush the surface with a spatula or a tablespoon.

Finally, put the sliced apples aside and sprinkle with brown sugar to brown the cake during cooking.

Bake 50 minutes (to be checked, to be adapted according to your oven). The center of the cake must be well melted.

Let cool on a rack, unmold and place in the refrigerator to firm and facilitate cutting.

Garnish with apples, chocolate chips and nuts.