Imprimer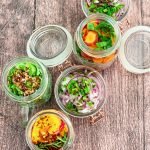 Pickles
For a jar of pickles Preparation time: 10 min, cooking time: 10 min I give you here the recipe of my brine to make my pickles that you can use with all kinds of vegetables / herbs / spices combination. To give you some ideas here are the associations that I have already tested: red onions / chives / Madagascar pepper, cucumber / chives / pepper flakes, carrots / thyme / cebettes / mustard seeds, multicolored beets / rosemary / pepper flakes . The vegetables should be washed, peeled and cut into thin slices.
For all recipes, prepare ingredients and place in a clean glass jar.

Prepare brine by combining all brine ingredients in saucepan over medium-high heat. Heat to a simmer until sugar and salt are dissolved.

Remove from heat and pour brine directly into glass jar with other ingredients. Make sure to cover produce completely. Seal jars and refrigerate.

You can keep your pickles up to 2 months.