Imprimer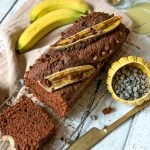 Vegan chocolate banana bread
For a banana bread Preparation time: 10 min, cooking time: 40 to 50 min
190

g

semi-complete flour

1

tbsp of cornstarch

50

g

cocoa powder

1

tsp yeast

1

tsp baking soda

1

pinch

of salt

2

ripe bananas

100

ml

non dairy milk

75

g

of oil

70

g

sugar

1

tbsp of liquid vanilla extract

1

tbsp of apple cider vinegar

Some chocolate chips

1

banana for topping
Preheat the oven to 180C.

In a bowl, combine the flour, maizena, cocoa powder, baking powder, baking soda and salt.

Mash the bananas in another bowl.

Add to the mashed bananas, the non dairy milk, oil, sugar, liquid vanilla extract, apple cider vinegar and whisk.

Add this preparation to the first preparation and whisk.

Add a few chocolate chips if desired to the preparation and whisk again.

Pour the preparation into a greased cake pan and add a banana cut in half on top and a few chocolate chips.

Bake for 40 to 50 min until the point of a knife inserted in the middle comes out clean.

Let cool completely and remove from the pan.