Imprimer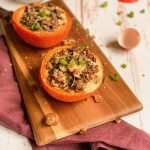 Vegetarian stuffed pumpkin
For 2 people Preparation time: 15 min, Cooking time: 30 min
1

small pumpkin

3 to 4

large mushrooms

1

large onion

2

eggs

2

tbsp of vegetable cream

or fresh cream if you prefer

1

large handful of cooked chestnuts

A tbsp of olive oil

Salt and pepper

Parsley
Preheat the oven to 180 ° C.

Wash the pumpkin, cut it in half and empty it. And for better stability, remove with a knife the caps on a few millimeters thick on the curved side of the two halves.

Brush the inside of the two pumpkin halves with olive oil, salt and bake for 10/15 mins (depending on the size of your pumpkin) until the flesh is tender.

Meanwhile, wash the mushrooms and mince them.

Cut the onions into small pieces.

Brown everything in a frying pan over low heat with olive oil and crumbled chestnuts for about 5 to 10 min.

Add salt and pepper.

In a bowl mix the whole eggs with the cream.

Remove the pumpkins from the oven, stuff them with the vegetable preparation.

Pour the cream mixture then bake for 10 mins at 150 °.

Remove from the oven and sprinkle with chopped parsley.