Imprimer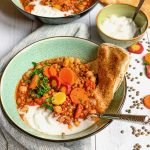 Lentil & Chickpea stew
For 4 people Preparation time: 15 min, Cooking time: 40 min
1

tbsp Olive Oil

1

Yellow Onion diced

2

tsp Cinnamon ground

1

tsp Coriander ground

1

tsp Red Pepper Flakes

1,5

tsp Fine Sea Salt

400

ml

Vegetable Broth + more for a soupier stew

1

Can of Crushed Tomatoes

3

Carrots Sliced in thin coins

150

g

Dry

Uncooked French Lentils

1

can Cooked Chickpeas drained

1

Lemon

Full Fat Coconut Milk

the canned variety or Whole Milk Yogurt for Serving

Fresh cilantro
In a large Dutch oven, add the olive oil and heat until shimmering. Add the onions and saute for 10 minutes on medium-low.

Stir in the cinnamon, coriander, red pepper flakes and sea salt. Stir until fragrant, about 2 minutes.

Pour in the broth, water, tomatoes, carrots, and lentils. Stir. Bring to a boil, then turn to medium low and simmer for 25 minutes. The stew will thicken as it cooks. Add the chickpeas and simmer for another 10 minutes or until the lentils are tender and chickpeas are cooked through. If a thinner stew is desired add more vegetable broth 1/2 C at a time. Remove from heat and squeeze 1/2 a lemon over the stew. Stir. Taste for salt adjustment.

Ladle into soup bowls then garnish with coconut cream, or yogurt and cilantro. For the coconut cream, open and scoop out the soft layer of fat on the top to dollop on the stew. Otherwise, a few scoops of rich coconut milk can be spooned over top. Serve with lemon wedges, coconut milk or a generous scoop of yogurt, and fresh cilantro.