Imprimer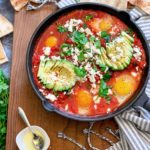 Shakshuka
For 2 people Preparation time: 10 min, cooking time: 15 to 20 min
Heat the oil in a pan (use preferably a cast iron)

Brown the onion and garlic in the oil for a few minutes.

Add the spices and grill for a few minutes to extract the flavors.

Add the tomato pulp and sugar and bring to a boil.

Reduce to low heat and cook for 10 min.

Add the spinach and continue cooking for 5 min.

Add salt and pepper.

Make 4 holes in the tomato sauce and break an egg in each hole.

Cover with a lid and cook until the white sets but the yellow must remain liquid.

Sprinkle with cilantro or chopped parsley.

Crumble feta cheese on top of the shashuka and add avocado slices if desired.