Imprimer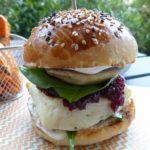 Halloumi & portobello veggie burger
For 2 burgers Preparation time: 5 min, Cooking time: 20 min
In a bowl, combine Greek yoghurt with salt, pepper and a few drops of tabasco.

Remove the foot from each mushroom and arrange the mushroom heads in a baking dish. Spray the mushrooms with olive oil using an oil spray and bake for about 20 minutes at 180 ° C.

Meanwhile, cut the halloumi into 2 thick slices.

In a frying pan fry the halloumi in a little oil on both sides and place a mint leaf on each slice. This will give a little menthol taste to the halloumi. Salt and pepper.

Cut the hamburger buns in 2 and grill them lightly in the pan.

Spread both sides of each bread generously with yogurt sauce.

On the bottom of each bread, place a few spinach leaves.

Cover with the grilled halloumi.

Spread beetroot chutney.

Add a few spinach leaves then the toasted mushroom.

Close with the top of the bread and plant a large spade to hold the set.
You can serve your burgers with baked sweet potato fries and a green salad.