The Origins
Un petit Oiseau dans la Cuisine was born after a long trip around Australia, New Zealand and Asia. Through the discovery of new cultures, new ways of life and above all new culinary trends, this experience  was a turning point in my life. Fond of cooking for a long time, the desire to share with the world my culinary discoveries, a healthy life being pushed me to create my blog. My cuisine is made with fresh, local and organic products with limited intake of sugar and fat. I like colourful plates and I enjoy to propose new healthy trends from all over the world : gluten free, veggie or vegan recipes. I am also inspired by the traditional cuisine with sweet treats that we all love but I always try to decrease the quantity of sugar and fat for staying in shape and keeping well!
My recipes are all available in French & in English to please to everyone!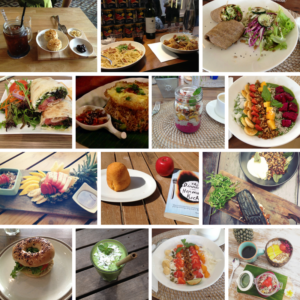 Why Un petit Oiseau dans la cuisine (a little bird in the kitchen) ?
The name of my blog  came naturally to me. In 2007 a new mate came in our life : a little yellow parrot with red cheeks, coming from Australia with the sweet name of Wally.
This good talker liked to go out of his cage and loved to spend time on my shoulder while I was cooking. One day, we had the desire to escape. Our big dream was to move for Australia! But how could we do with Wally? We then envisioned to bring Wally with us to his home country! Unfortunately Wally passed out after having spent amazing time with us. We've just realised that Wally told us to reach our dream. One year and half after we were off to live our adventure to the country of birds!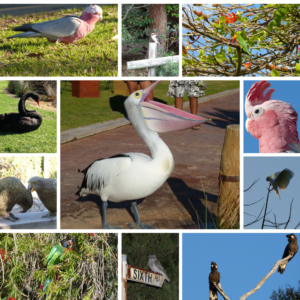 And one day, while I was strolling the streets of Perth, I found this wall :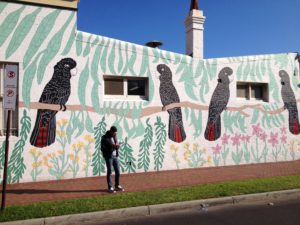 It was an inspiration for me, Un petit Oiseau dans la Cuisine was born in my head!  It's when we came back in August 2015 that I have created my culinary blog with the name of my little bird in the kitchen, Wally.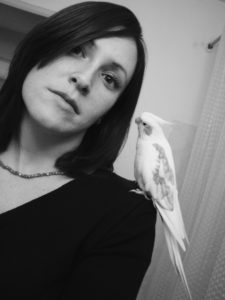 Few words about me !
Age: 34
Origine: french, from the amazing city of Montpellier with many years spent in Grenoble
Living place: Switzerland at the foot of the Lake Leman for over a year now
Family status: in couple for 17 years
Profession: Engineer in Quality
Passions: travels, nature, animals, discover new cultures, explore the world, meet new people and cooking of course !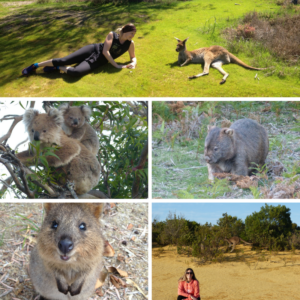 I hope that my recipes will inspire you! Don't hesitate to leave your comments on my blog and to follow me on the social networks Facebook, Instagram et Pinterest.
♥ A special thanks to Geo & Jeanne where all started ♥