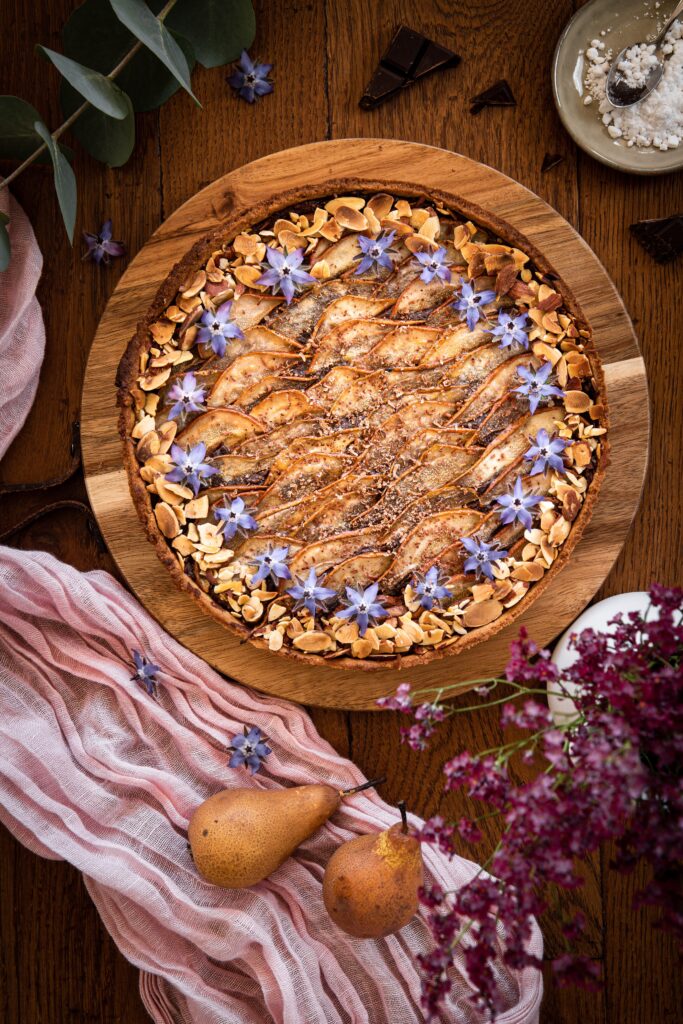 l Switch language for recipe in French l
Pear and chocolate tart
For a pie
Preparation time: 30 min, cooking time: 45 min
Sweet dough :
Ingredients
210g of flour
125g semi-salted butter, cut into small pieces
35g of icing sugar
25g of hazelnut powder
1 egg
Chocolate almond cream:
Ingredients
80g of dark chocolate
80g of semi-salted butter
100g of almond powder
2 eggs
2-3 pears
a few flaked almonds
PREPARATION
Prepare the sweet dough by mixing all the ingredients together with a food processor.
Roll out the dough and place it in a pie pan.
Bake the dough using the method of your choice (dry beans, rice, etc., placed on the dough to prevent it from swelling during cooking) at 180 ° C for about 15 min.
The dough must be very blond without being golden.
Peel and cut the pears into very thin strips.
For the almond cream, melt the semi-salted butter and chocolate together in a saucepan.
Add the almond powder and the eggs and mix.
Pour the almond cream over the cooked pastry and place the pear slices as you like on top of the almond cream. I placed mine in a row.
Sprinkle a few slivered almonds all around the edge of the pie.
Bake at 175 ° C for 45 minutes, monitoring and adapting the cooking to your own oven. The almond cream should be firm and cooked.