Stuffed vegetables
l Switch language for recipe in French l
Summer is back and it's the best time of the year to eat stuffed vegetables. Tomatoes are beautifully red and juicy; they will bring a succulent taste to the juice of the vegetables. You can add to your tomatoes, vegetables of your choice such as eggplant, zucchini, peppers or potatoes. I recommend to select your vegetables from a local producer, an organic grocery store or even better from your garden if you have the chance to have one. Your stuffed vegetables will be much better and more tasty!
For my recipe today, I chose big tomatoes, beef heart tomatoes and round zucchinis from an organic producer.
Stuffed vegetables
4 serves
Preparation time: 15 min, Cooking time: 40 min, Thermostat: 200°C
Ingredients
4 ripe tomatoes
2 round zucchinis
400g minced and low fat pork
200g minced and low fat beef
3 eggs
5 tbsp breadcrumbs (or doughy part of bread cut in small parts and humidified with milk)
1 tbsp chopped parsley
1 small chopped onion
Salt and pepper
1 beef stock
6 knobs of butter
1/2 cup water
tomato paste (optional)
You can select vegetables of your choice. I recommend to keep at least 2 tomatoes for this recipe. It will give taste to the juice of the vegetables. If you choose to add potatoes to the recipe, it's better to boil them few minutes without the skin. The quantity of meat is based on 6 big vegetables.
Preparation
Clean the vegetables with clear water.
Cut the cap of each vegetable. Keep the tomatoes juice. Caps and tomatoes juice will be added to the juice to give more flavour.  Put the vegetable in a baking dish.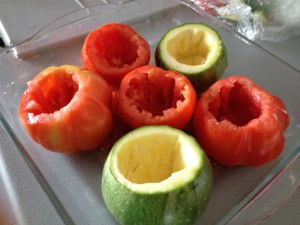 Prepare the stuffing. Mix together the 2 sorts of meat, eggs, onion, parsley, breadcrumb, salt and pepper.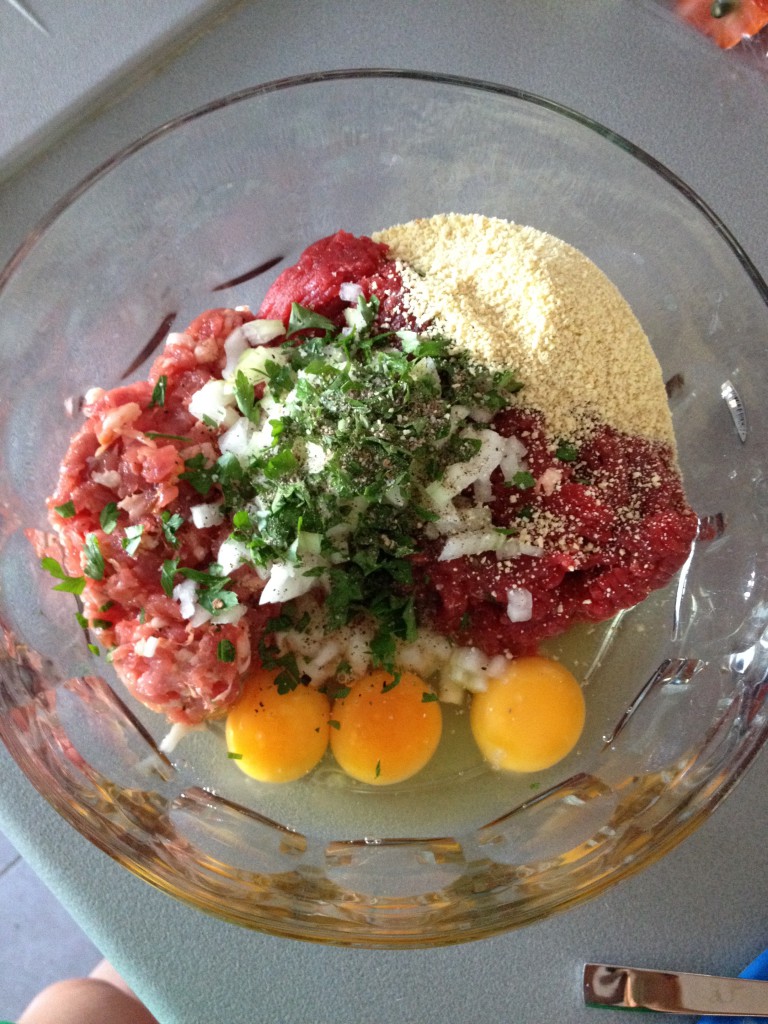 Stuff the vegetables and put a knob of butter on each of them. You can add a small tsp of tomato paste on each vegetable to give more flavour.
Melt the beaf stock in water. Put the vegetables caps in the bottom of the dish and pour the stock juice on the vegetables.
Bake in the oven to 200° for 40 min (or until golden brown crust). Pour the vegetables with the juice during baking.You can served the stuffed vegetables with rice from Camargue.Enjoy your meal!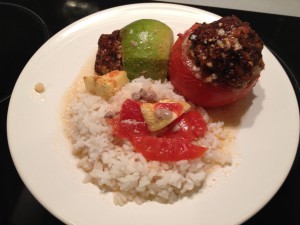 ---
---
---
Références :