Baked Brocoli Fingers
l Switch language for recipe in French l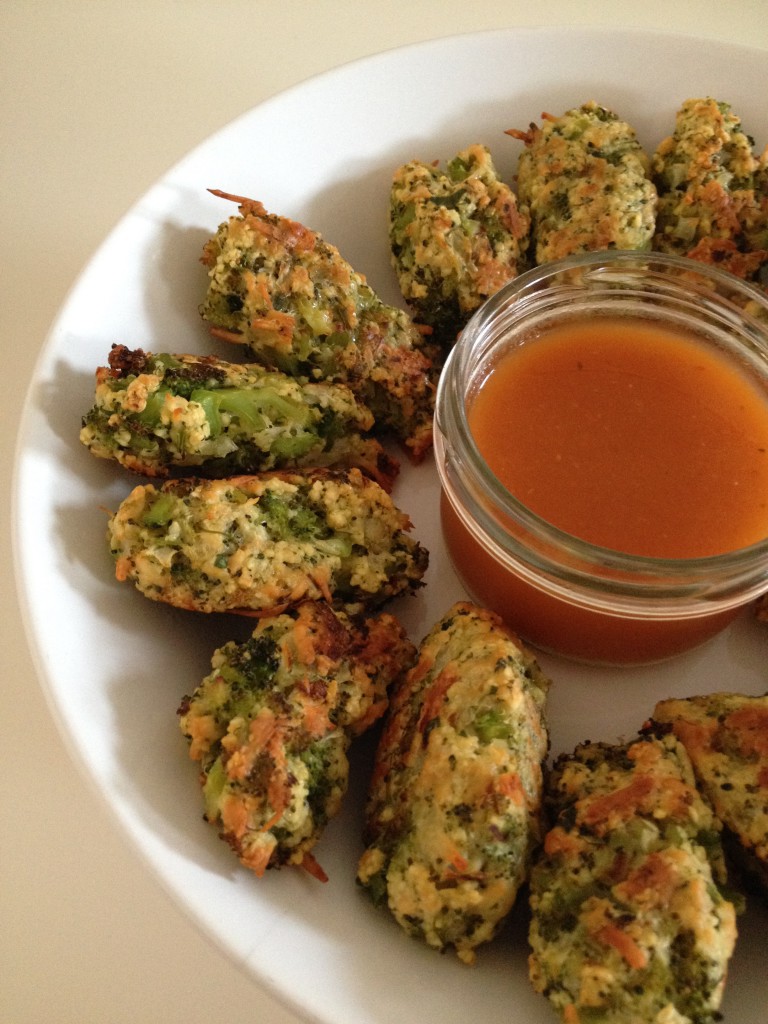 I found the recipe on the internet and wanted to try it. It looked so yummy that I ran to my organic grocery to find a brocoli and test this discovery. Instead to bake the preparation in a muffin tin, I've decided to change a bit the recipe and shape the mixture into a kind of fingers. Well I know, it doesn't really look like a finger but I wasn't able to find a good translation of the french word « croquette ». Let's just forget the name and try this recipe straightaway!
 Baked Brocoli Fingers
18 fingers
Preparation time: 20 min, Cooking time: 20-25 min
Ingredients
1 small brocoli
1 egg
1 small diced onion
2 tbsp parsley
125g breadcrumb
80g cheddar
Salt and pepper
PREPARATION
Blanch the brocoli cut in florets in boiling water for 1 minute.
Strain and pass the brocoli under cold water to stop the cooking process.
Chop finely the brocoli, parsley and onion.
Mix the brocoli, onion, parsley, breadcrumb, cheddar and the egg. Add salt and pepper. (1 & 2)
                                     1                                                             2
Preheat the oven to 200°C.
Grease a parchment paper with a thin layer of oil on a baking plate.
Place in the palm of your hand, a big tea spoon of the mixture.
Firmly press the mixture in your hand in order to agglomerate the ingredients together. Form a ball and shape into a finger shape. (3)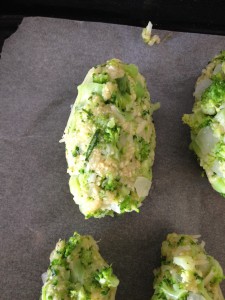 Continue until finishing the mixture.
Place the fingers on the baking sheet et bake for 20 minutes or until golden brown, turning half way. (4)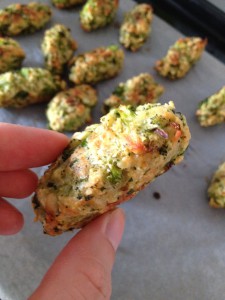 You can serve the brocoli fingers with a tomato sauce, a sour sauce or a fresh gaspacho.
---
---
---
Références :
http://www.foodista.com/recipe/5LT7TS3S/cheesy-roasted-brocoli-patties