Paule's cake
l Switch language for recipe in French l
I tried « Le cake de Paule » during a warm summer evening. I was immediately seduced by the hazelnut taste and the sweet one coming from carrots. This cake is very soft, colorful , and give a taste of autumn with its hazelnuts. Carrots and tomatoes bring color and hazelnuts a subtle nutty flavor and crunch.
Did you know that nuts are very good for health? With over 10 nutrients, nuts are an important source of fiber and help, through their high composition of monounsaturated acides fat to lower total cholesterol and LDL-cholesterol (bad cholesterol) . They also have antioxidant properties that reduce lipids oxidation in the blood and therefore, limit the cardiovascular risk . 
Eat hazelnuts !!! 
Here is the recipe :
Paule's cake
Serve: 10 slices
Preparation time: 10 min, Cooking time : 45 min
Ingredients
180g flour
1 baking powder
3 eggs
10cl milk
3 tbsp olive oil
30g hazelnuts
10 cherry tomatoes cut in half
30g cheddar + 10g to sprinkle over the cake
1 big carrots or 2 small one
Salt and pepper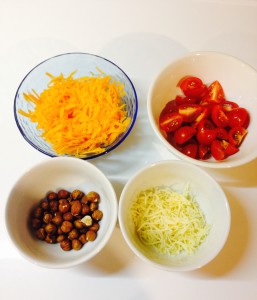 PREPARATION
Preheat oven to 180 ° C 

Grate the carrot.

In a bowl mix flour and baking powder. 

Whisk the eggs and add milk, oil . Add salt and pepper . 

Pour over the flour and mix until smooth. 

Add to the dough hazelnuts, cherry tomatoes, grated carrot , and 30 g of cheddar . Mix well.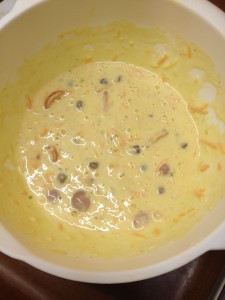 Pour the mixture into an oiled loaf pan and sprinkle with 10g of cheddar.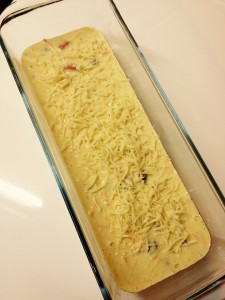 Bake for 45 minutes, don't overcooked the cake, the tip of a knife should come out clean but moist .
Perfect to serve during an apéritif or an evening cocktail party 😉