Coffee mascarpone mousse
l Switch language for recipe in French l
An easy and quick recipe which differs from the traditional tiramisu because there is no egg in the preparation. If you want, you can add small shortbread or speculos crushed in the bottom of the verrine. I've decided to serve the mousse with homemade chocolate madeleine (you can find the recipe in the section cake). Yum, a delight!
Coffee mascarpone mousse
4 large verrines
Preparation time: 10 min, Presentation time: 5min, Refrigeration: 2h
Ingredients
Mascarpone mousse
Ingredients
250g mascarpone
200ml whipping cream
40g sugar
1 expresso cup
Preparation
Mascarpone mousse
Prepare the expresso.If you don't have, you can use 1 tsp of instant coffee diluted in an expresso cup with hot water.
Whisk the mascarpone with sugar and add the cold expresso shot.
Add the coffee mascarpone cream to the whipped cream and gently mix with a spatula.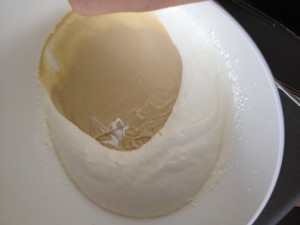 Presentation
Fill a piping bag with the coffee mascarpone mousse and fill the verrines with this mixture. If you like, you can add some shortbread in the bottom before adding the mousse.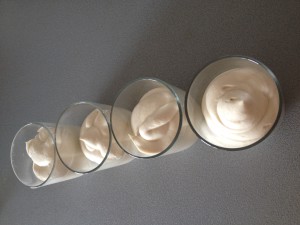 Smooth the cream with a tea spoon.
Refrigerate at least 2 hours.
Sprinkle each verrine with no fat cacao powder.
Present with a coffee grain or a chocolate drop.
Enjoy!
---
---
---
Références:
http://www.unpetitoiseaudanslacuisine.com/madeleines-au-chocolat-chocolate-madeleines/