Veal stew with green olives and vols au vent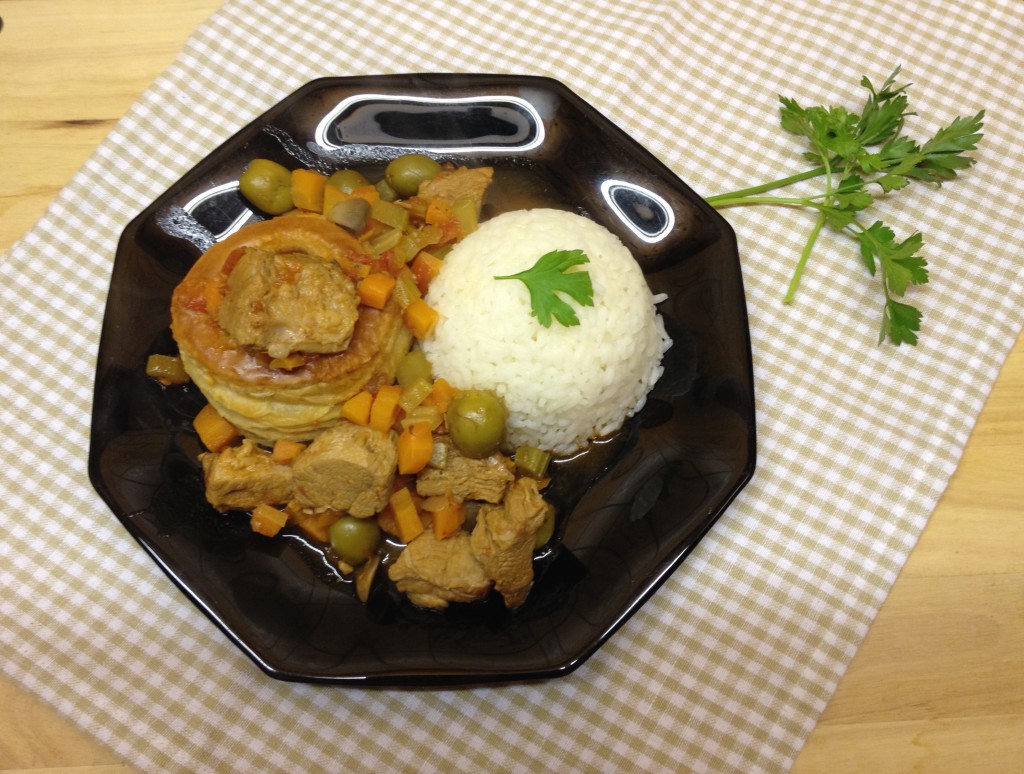 l Switch language for recipe in French l
I discovered this recipe at Paule's home. It was for me a new way to eat vols au vent since I used to eat them as « bouchées à la reine ». Vol au vent are just perfect served with this stew as a garnish. They become wet with the sauce and the mix of flavors is excellent. This dish is well balanced since it contains not too much fat and lots of vegetables (carrots, mushrooms, celery and tomatoes). Regarding the meat, I always choose boneless and low fat meat. I remove the excess fat if necessary. The ideal meat for me is the veal, but this recipe could be done with pork tenderloin or even turkey. Cooking is long, it let spread the flavors to the dish and make the meat deliciously tender. The cooking time may vary depending on the meat but just be focused on the texture of the meat to know the end of cooking: the meat should divide into small tender filaments. It is normal that after one hour the meat is still firm, don't worry! Vegetables are of course organic and / or local. For olives, it's important to add them 30 minutes before the end of cooking in order to not overcooked them and prevent a too strong olive taste. Beware of salt, olives will bring salt after cooking, it is better to adjust the seasoning after cooking if necessary.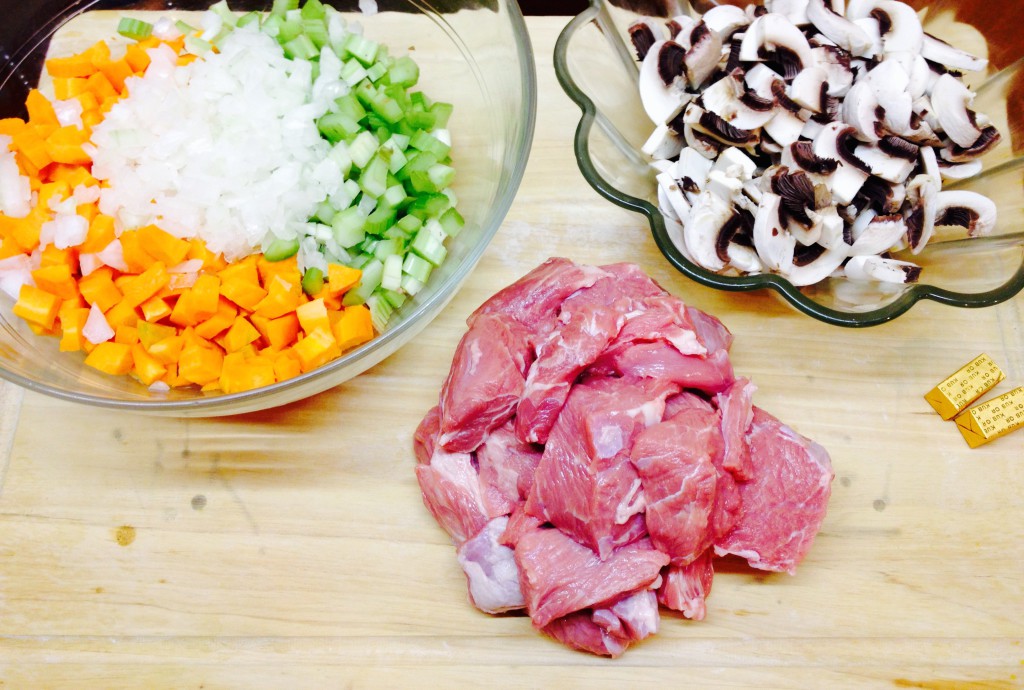 Veal stew with green olives and vols au vent
For 6 servings
Preparation time: 30 min, Cooking time: 2h
Ingredients
800g veal
4 large carrots
4 celery sticks
10 button mushrooms
1 onion
3 bay leaves
1 stock cube
150g pitted green olives without juice
200 ml white wine
1 can tomato pulp
3 tbsp tomato paste
2 tbsp olive oil
water
salt and pepper
6 vols au vent
cream (optional)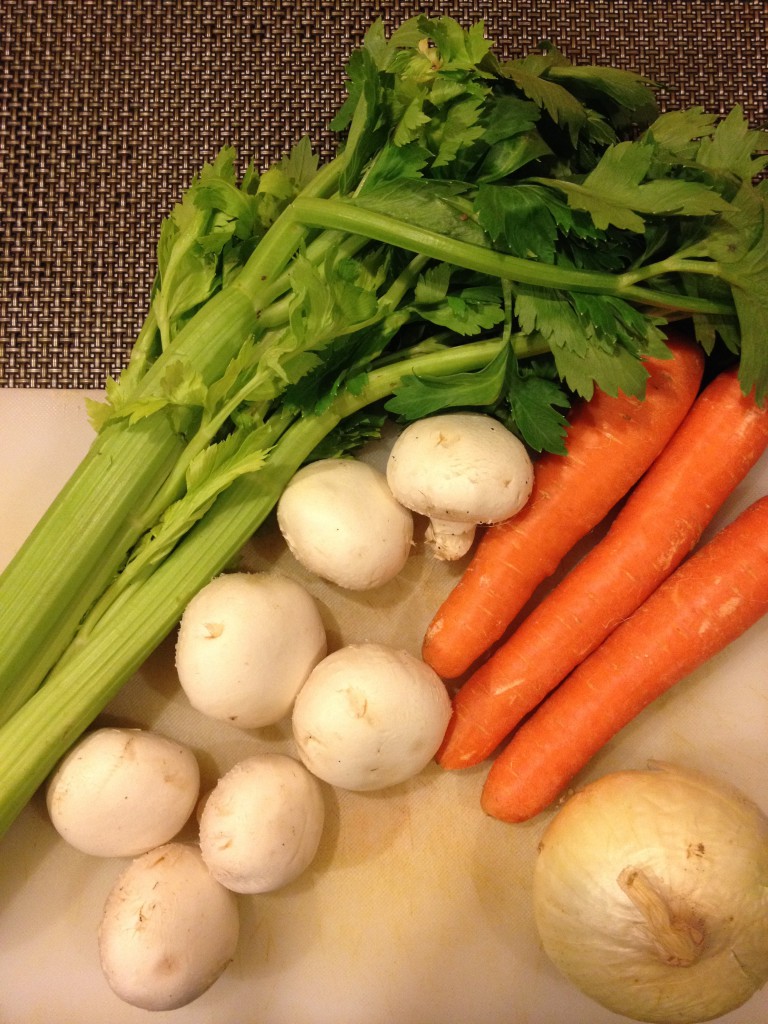 PREPARATION
Peel the onion and chop into small pieces.
Peel the carrots and cut into small pieces.
Wash the celery and cut  in small pieces.
 Cut the veal into large cubes, remove excess fat.
Peel the mushrooms and cut them into thin slices.
In a casserole dish, cook the veal with 1 tbsp olive oil until lightly coloured. Add salt and pepper and set aside.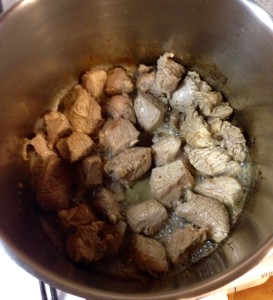 Fry in the same casserole dish, onion with carrots and celery with a tbsp olive oil. Add salt and pepper.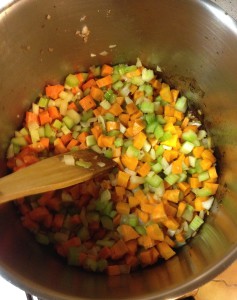 Add the veal . Drizzle with white wine and boil to evaporate the alcohol.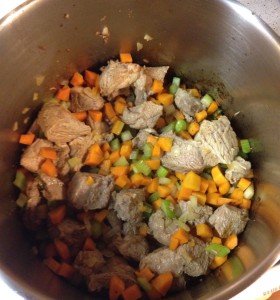 Add the tomato pulp and tomato paste . Add the bay leaves . Add salt and pepper.
Fry the mushrooms in a hot fried pan without any fat. Mushrooms will loose their water. Cook mushrooms until complete evaporation.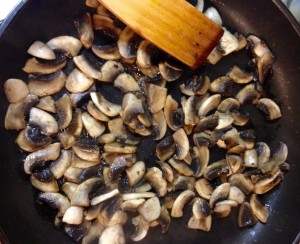 Add the mushroom in the casserole dish and mix.
Add water until covering and boil.
Cover and cook on low heat for an hour.
After an hour, add the green olives , mix and cook , covered, another 30 minutes or until meat is tender.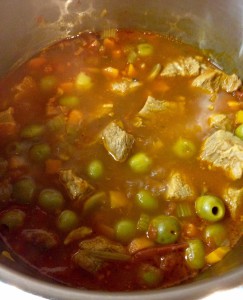 You can add, after cooking, some cream in the sauce to bring a little sweetness.
Put the vols au vent in the oven for 10 minutes at 180 ° C so that they will become crispy.
Put a vol au vent on each plate and serve with a ladle the veal stew with olives inside the vol au vent and on the plate.
You can serve this dish with rice, pasta or potatoes .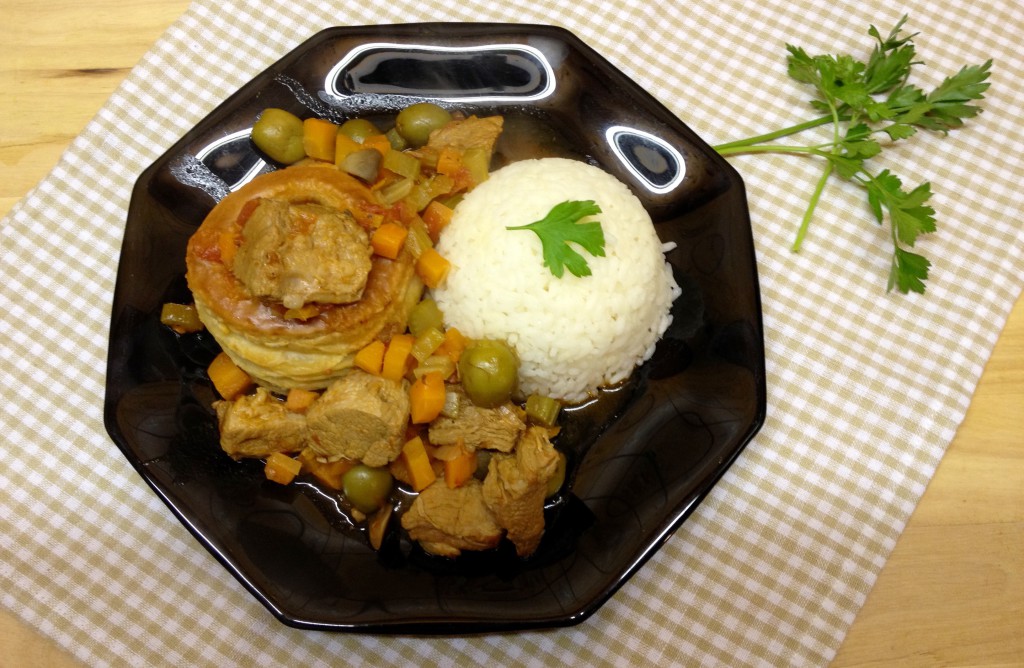 ---
---
---
References:
https://fr.wikipedia.org/wiki/Vol-au-vent